Featured Item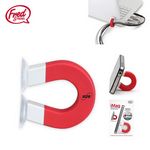 Fred & Friends Imag
It's not a real magnet, but this horseshoe-shape can organize your tech life. Suction cups can adhere it to your computer to tame wild cords or attach to any handheld media device to stand it up. 1 3...

Welcome!
| | |
| --- | --- |
| | We specialize in custom, quality promotional products. |
We think about your target audience and come up with messaging and promotional pieces that resonate. Our products serve as conversation starters for your brand among clients, prospects, stakeholders & employees. They galvanize your brand message and spread the good word. Clients typically use our promos at tradeshows, networking events, conferences, in sales calls and corporate meetings, and during special events. We design award, wellness, employee-incentive and new client acquisition programs for the healthcare, hotel and retail industries. And, should you so desire, we assist you in the graphic design of your logo/message. For your next promotional initiative, contact Abacus.